Metal Laser Cutting Machine Item Code: MY-L500W-1325 - Coimbatore
Thursday, 3 July 2014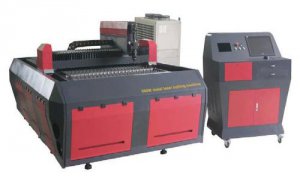 Item details
City:
Coimbatore, Tamil Nadu
Contacts

RPM Tools Consulting

9952923400
Item description
Metal Laser Cutting Machine
Item Code: MY-L500W-1325
I. Metal Cutting Machine Working Principle
Laser device of our metal laser cutting machine is based on High Intensity Discharge (HID) as its driving source, outputs laser beam with high energy and density, and gathered on the surface of metal materials surface, melt and gasify the irradiated area by laser spot partly& flashily. It moves the laser spot shining location and achieves automatic cutting through computer controlled CNC Machinery System. It is one High-tech equipment which units the features of laser tech, precision machinery tech and CNC tech.
II. Applicable materials and industry
Stainless steel, carbon steel and other metal materials precise cutting, suitable for aerospace technology, rocket, plane, robot, levator, steamship and automobile manufacturing and metal parts processing industry for metal late, advertisement, kitchen ware, bit tool, hardware, etc.
III. Feather
1. Reasonable Gantry Structure, stable laser path
1) Our Solid Laser Cutting machine adopts Gantry Structure, cast Cross Beam, the whole structure is very firm, and it changes the old Cantilever formation, has smaller body, lighter weight, durable structure and high precision.
2. Mechanical Following Laser Cutting Head imported from USA, high sensitivity and good stability
Our solid laser cutting machine uses USA imported mechanical following cutting head.Cutting head laser nozzle locking ring touch the metal sheet materials surface, cutting head move up and down, and it can achieve same focal cutting. The cutting head has high sensitivity, stable running and good reliability.
3. Power supply controlled by control cabinet, easy to operate
Control cabinet a unique design, including the entire operating system, change the past
independent power operation of complex design, and can control the system on the current, frequency, pulse width and other parameters
4. Precise and rational design, optical adjustment for easy lamp and rod replacemen
The solid-state laser cutting machine make use of cantilever structure, therefore just move beam body to nail bed edge during adjustment of laser path, the operator can replace the side lights and rods behind the beam body.
5. Japanese Panasonic servo motor to improve the cutting speed and stability.
X, Y axes with two 1500W Panasonic servo motors, the moving parts of Z-axis equipped with a 200W Panasonic servo motor, the three combination ensure the stability and efficiency.
IV. Advantages of Large format gantry WISELY solid laser cutting machine
1. High in cutting precision, excellent in stability
2. High quality in cutting edge
3. Large format cutting and suitable for more material
4. With drawer to collect the garbage, easy to change the gas valve
5. High performance-price ratio
7. Higher cutting speed and efficiency
V. Technical Parameters
Type : MY-L500W
Laser Oscillation Method : YAG Lamp Pump
Laser Power : 500W
Laser Wavelength : 1064nm
Working Area : 1250mm*2500mm
Max. Cutting Speed : 2000mm/min
Max. Cutting Depth : ?5mm Carbon Steel
Applicable Material : Stainless Steel, Carbon Steel, Aluminum, Copper, Titanium Plate, etc.
Transmitting Type : Ballscrew from Germany, Dual Linear Guide Rail from Taiwan
Drive Type : Servo Motors from Japan
Format Supported : DXF, AI, PLT and so on.
X, Y-axis Location accuracy : ±0.05mm
Cutting Bed : Sawtooth Metal Strip Bed
System Operation Environment : Windows XP
Laser Power Injection : 18KW
Water Chiller Power : 5HP
Cooling Mode : Water-cooling
Power Supply (Only for machine) : 380V 50/60HZ
Power Requirement : 3 KW
Dimension (L*W*H) : 4000mm*2500mm*1000mm
Net Weight : 3000KG
Samples
Cutting Samples available, we can make the samples at your request.