Laundry Equipments - Tumbler Drier (L.P.G.) - Coimbatore
Wednesday, 19 May 2010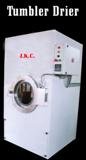 Item details
City:
Coimbatore, Tamil Nadu
Contacts

A.Jai Kumar

0427-2352555
Item description
Tumbler drier is consisting of an Inner Drum made out of stainless steel
confirming to ANSI SS 304. The drum is designed with perforations for penetration
of hot air and 'U' lifters for proper tumble action. The hot air is generated by
L.P.G. system. Separate arrangements are made for rotation of drum and Exhaust
fan assembly. Drum rotation is arranged by Drive motor through pulley & V-belt
arrangements. Exhaust fan rotation is arranged directly. Main body constructed by
MS channels, Square tubes and sheets. A panel board made of thick MS Sheet
consisting of three phases Indicators, main Switches, overload relay, Temperature
indicator, Timer etc., Will be Provided to achieve Automatic forward and reverse
rotation. Automatic time and stoppage of Machine. Provision for programming of auto
Timer to customer's specific requirement.
A simple easy arrangement for removal of drum.
The drive is arranged with horizontal TEFC Motor of 1Hp., 440 Volts, 3phase
50 cycles of 1440 RPM.
The exhaust fan is rotated by horizontal TEFC Motor of 1Hp., 440 Volts, 3phase 50 cycles of 2820 RPM.
Safety limit switch to prevent the machine running while the outer drum door not in fully closed conditions.
Duct arrangement for collection of cotton and yarn waste.
Fully insulated outer body.