Exclusive Tirupati Tour Packages In Best Rate - Coimbatore
Tuesday, 23 February 2016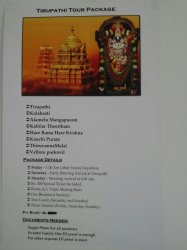 Item details
City:
Coimbatore, Tamil Nadu
Contacts

Nithya

9597503498
Item description
DOMESTIC /INTERNATIONAL TOUR PACKAGE(CORPORATE, HONEYMOON, FAMILY, GROUP TOURS
Luxury CAR/BUS ON HIRE
HOTEL & RESORT BOOKINGS
HOUSE BOAT BOOKINGS
VISA/PASSPORT SERVICE
AIR/BUS/TRAIN TICKETINGS
BUS /MINIBUS/COACH/TRAVELER/CAR AC/ NON AC ON HIRE
www.sritoursandtravels.co.in Nithya
95975-03498
95789-45454
Tirupati
Kalahasti
AlameluMangapuram
Kabilar Theertham
Kanchi Puram
ThiruvannaMalai
Thirthani
Package Details
Friday – 1.00 Pm (After Noon) Departure
Saturday – Early Morning Arrival at Tirupathi
Monday – Morning Arrival at 6.00 Am
Rs. 300 Special Ticket Included
Room Triple Sharing Basis
Two Breakfast(Saturday &Sunday
Two Lunch (Saturday and Sunday
One Dinners (Saturday
Per Head: Rs.2300
Documents Needed: Single Photo For all members
In same Family One ID proof is enough
For other separate ID proof is must.
SRI TOURS AND TRAVELS
356/3, Dr.Radhakrishnan Road
6th corner , Tatabad, Coimbatore-641012.
95789-45454/95975-03498.