Borewell compressor manufacturers in Coimbatore | BAC Compressors - Coimbatore
Monday, 6 March 2017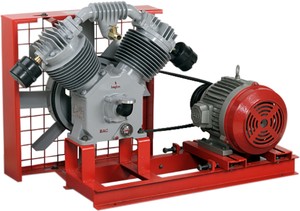 Item details
City:
Coimbatore, Tamil Nadu
Contacts

BAC Compressors

9443316946
Item description
Bac Compressor have 30 years of presence in Borewell compressor pumps manufacturers with outstanding performance. Bac Compressors' borewell compressor pumps have been deployed at bore depths of 2000ft and performing effortlessly.
A Borewell compressor pump works by forcing compressed air into bore through a pipe. The compressed air and water mix together resulting in a mixture that is less dense than the surrounding water and therefore flows upward through the pipe.
BAC Compressors made its trade mark in India with manufacturers of borewell compressor pumps. BAC has been the tier one player in borewell compressor manufacturers since decades. We have supplied to customers with depths ranging from 50 feet to 1500 feet. Unlike other borewell compressor manufacturers we have special models for the borewell segment to obtain the maximum possible efficiency. We are one of the leading Borewell Compressor manufacturers in Coimbatore with thousands of installations so far.
BAC's borewell compressor pumps are designed in higher aspect with a motive to deliver high efficiency output in the fields of agriculture, domestic and industrial purporse as of customer perspective. We are the only industry to serve borewell compressor upto the depth of 1500 feet."Quality is our watchword", we serve only the best quality, relaible, high efficiency borewell compressor to our customers.